Referential Birth Chart
Discover your 14 Tarot Birth Cards
 Encounter your inner self with the Tarot of Marseille
A unique method of self-knowledge and personal development with the Tarot of Marseille   
Private sessions & Individual live tutoring via Zoom or Skype      
Your 14 Tarot of Marseille Birth Cards
What is the Referential Birth Chart system?
The Referential Birth Chart (RBC) system is a method of personal development and growth based on the Tarot of Marseille. It helps us to get a better self-knowledge and access our inner self through the symbolism of the Tarot.
Our RBC is calculated from our date of birth. From this calculation, we get 14 cards, also called 'Arcana' (13 Major Arcana and 1 Minor Arcana) in 14 Houses. Each House has a symbolic meaning: my mission in life,  my resources, my challenges, my heritage… The idea is to find what each Arcana is saying to us and which advice it gives us.
We can compare the RBC to a symbolic representation of the cards that were given to us at birth:
How do we play them?
And how can we BETTER play them?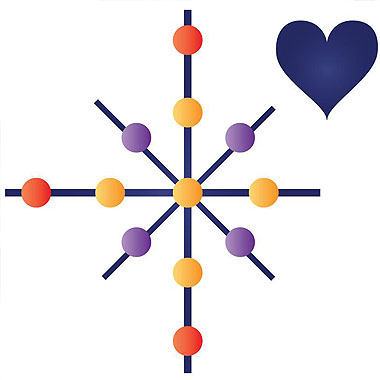 Who created the Referential Birth Chart (RBC) system? 
The founder of this method is Georges Colleuil, a French philosopher, linguist and author. He wrote many books on the therapeutic function of symbols, on the Tarot of Marseille, on mythology and how to work with our dreams. He created the Referential Birth Chart during the 80's. He founded his own school (École internationale Georges Colleuil) and is now teaching this method around the world.
You can learn more about Georges Colleuil's work by visiting his website (in French): https://www.georgescolleuil.com/
How can the Referential Birth Chart help me ?
Our Referential Birth Chart is a mirror of ourselves and an encounter with our inner self. It is a great tool for self-knowledge and personal development.
It can help us to better understand ourselves. In times of troubles or big changes, it helps us to understand what is going on in our lifes.
It can make us get conscious of our resources and  our mission in life. It may show us how to solve some issues we are facing. It can give us indications on how people see us and how we could better communicate. It depictes our inner conflits and tells us how we can solve them.
Each year, one of the Arcana of our RBC is changing and is bringing a new energy into our chart. At the same time, it brings new challenges and new resources for this particular year. A focus on this Arcana is always useful to understand what we are going through during this period of time.
The RBC's 14 Houses and their meanings
House 1 – how I present myself to the others
House 2 – my quest
House 3 – my desire and my fears, my mental filters
House 4 – my mission or life task
House 5 – what repeats in my life
House 6 – my main resources
House 7 – my main challenges
House 8 – my annual card, the energy for the year
House 9 – my deeper self, the achievement of my soul
House 10 – the difficulties I shall experiment to grow
House 11 – my legacy
House 12 – my transmission
House 13 – my paradox
House 14 – how to overcome what repeats in my life
Tarot of Marseille
The Referential Birth Chart, composed of our 14 Tarot birth Cards, is based on the Tarot of Marseille.
The Tarot of Marseille is widely used in France and in many European countries. This is the ancestor of most tarots used nowadays in Europe.
There are many mysteries surrounding the origin of the Tarot of Marseille. You can find some information on the history of the Tarot of Marseille here.
About
My name is Mélanie and I am a certified practitioner of the Referential Birth Chart.
I was trained by Georges Colleuil, the creator of this tool, to learn how to use this unique method of self-knowledge and personal development.
Today, I put this knowledge into practice by conducting RBC individual sessions and tutoring in English and in French to anyone interested to discover this unique approach of personal growth.
I am looking forward to accompany you through the Arcana of the Tarot of Marseille.
Discover your Referential Birth Chart:
 > Private sessions via Zoom or Skype
How to book a private session? 
You send me an email via the Contact form at the bottom of this page.
I will get back to you per email to schedule a session. 
Payment via PayPal. 60 Euros per session (about 1h15).
Learn how to use the Referential Birth Chart System – Foundation Course:
 > Individual live tutoring via Zoom or Skype
During this Foundation Course, you will learn how to use the Referential Birth Chart System while studying in depth your own chart.
6 individual live tutoring sessions. Each session lasts 1h30. We will cover 3 levels during this course: RBC Basics, RBC In depth and RBC Advanced.
390 Euros for the whole course.
All training materials in English are included in the price.
Contact me to get full details via the Contact form below.
N.B.: This course is a Foundation Course to the Referential Birth Chart system. To become a  Profesionnal Certified Practitioner of the Referential Birth Chart, please contact the Ecole Internationale Georges Colleuil.
Private sessions
A Referential Birth Chart session is an exchange between the practioner and the consultant. You will take an active part to the session, explain and depict what you see on the cards, express your feelings about the cards…
As a RBC practitioner, I will not give you the answers to your questions,
I will help you to find your own answers within yourself.
To find out more about the private sessions or individual tutorials by Skype, you can fill in the form below: